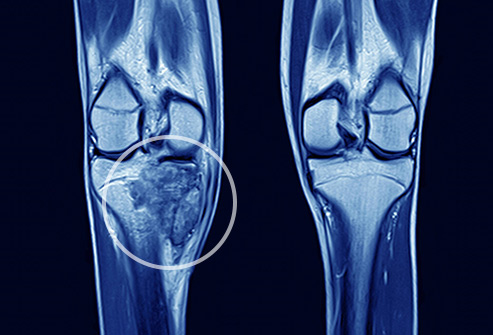 Symptoms
The patient initially experiences pain in the affected area. Over time, the pain gets worse and continuous. In some cases, the pain is subtle, and the patient may not see a doctor for several months. The progression of pain with Ewing sarcoma tends to be faster than in most other bone cancers. Typically, bone cancer pain is deep, nagging, and has a permanent character. Other symptoms include:
Swelling in the affected area
Weakened bones that resulting in a significantly higher risk of fracture
Unintentional weight loss
A lump in the affected area
Although much less common, the patient might also experience fever, chills, and night sweats.
Bone cancer is a malignant tumor resulting from the atypical growth of cells either in the bones or any other body part. A significant number of bone cancer cases are metastatic, wherein the tumor originates in remote parts and infects bones. While the causes of bone cancer are yet to be uncovered, there are specific risk factors, such as exposure to radiation and alkylation agents, specific gene mutation and so on. The prominent symptom of the medical condition is a constant pain in the bones, which may worsen with time. As the chances of recovery increase with the early presentation, it makes sense to seek medical help on the onset of pain.
We are well-equipped to manage all types of Orthopedic Oncological conditions. Whether you are suffering from Primary Bone Cancers like Sarcomas or Metastatic Bone Disease, we can take care of it all. We are also positioned to deliver treatments for several other bone malignancies, such as Myeloma and Lymphoma, along with Soft Tissue Sarcomas and Spine tumors. Benign tumors like Giant Cell Tumors, Aneurysmal Bone Cyst and Chondroblastoma are also managed. Besides bone cancer treatment, we can also support non-oncological orthopedic needs of patients hospitalized for other medical conditions.
We have the technology and skills to carry out super specialized surgical procedures for bone tumor treatment. We put our best foot forward to conduct limb salvage surgery with endoprosthetic replacement, vascularised bone autografts and extracorporeal radiotherapy. Our limb salvage surgery portfolio also includes re-implantation of tumor bone and total femur and total humerus replacement. We also perform specialized soft tissue sarcomas, internal hemipelvectomy, en bloc resections of primary spinal tumors and extended curettage of benign aggressive bone tumors.